The design presented here is an alternative to a double-bay Hoverman antenna. It has a very high gain but a much narrower bandwidth at its design frequency. Pictured below is a schematic of the proposed antenna (dubbed X-GH8) along side the single-bay GH-10 for comparison.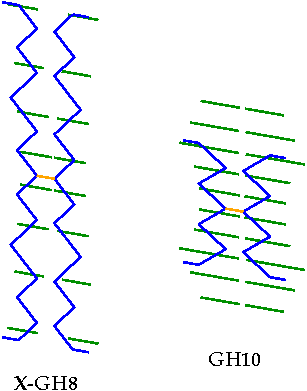 ---
Performance Predictions
---
The version of the X-GH8 presented here has been optimized for 615 MHz. The following plots show its predicted net gain (corrected for the SWR effects), front-to-back ratio, and the SWR across the post-February 2009 UHF band. For comparison, the plots also include curves for the GH-10. As the plots show, this antenna has a narrow bandwidth and is effective only for frequencies near its design frequency where it has a net gain in excess of 18 dBi. The gray region corresponds to the frequency range where the net-gain is above 14 dBi.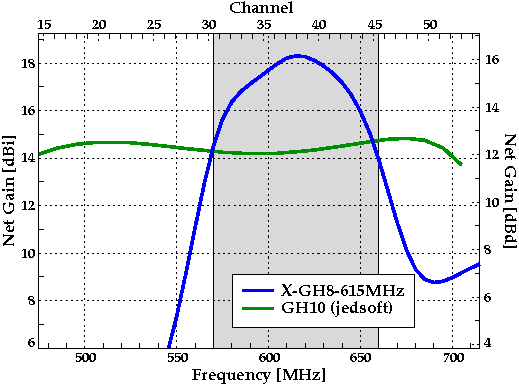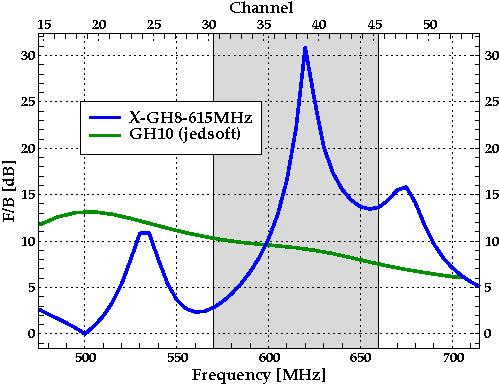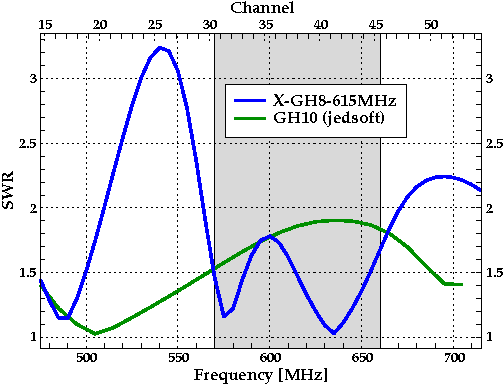 The high gain is achieved by flattening the radiation pattern toward the horizon. As such, the care should be exercised when vertically aligning the antenna.
---
Specifications
---
The geometric parameters of the X-GH8 was found by optimization process outlined on the Antenna Overview page. The antenna consists of two parts: a driven element formed by a zigzag pair, and a reflector made up of a varying number of horizontal parasitic elements.

The figures and tables provided below give the detailed geometric information about the antennas. Each of the tables contains a `D' parameter, which represents the diameter of the wire to be used. In addition, the tables for the zigzag driven element contains a ` Δx' entry that represents the spacing between the driven element and the reflector.

The feedpoint, denoted by the orange segment connecting the zigzag pairs, has a 300 ohm impedance. As such, a 300 ohm matching transformer will be required to connect this to standard 75 ohm cable (RG-6).
---
X-GH8 Parameters